Board Game Pairing: Biblios And A Belgian-Style Quadrupal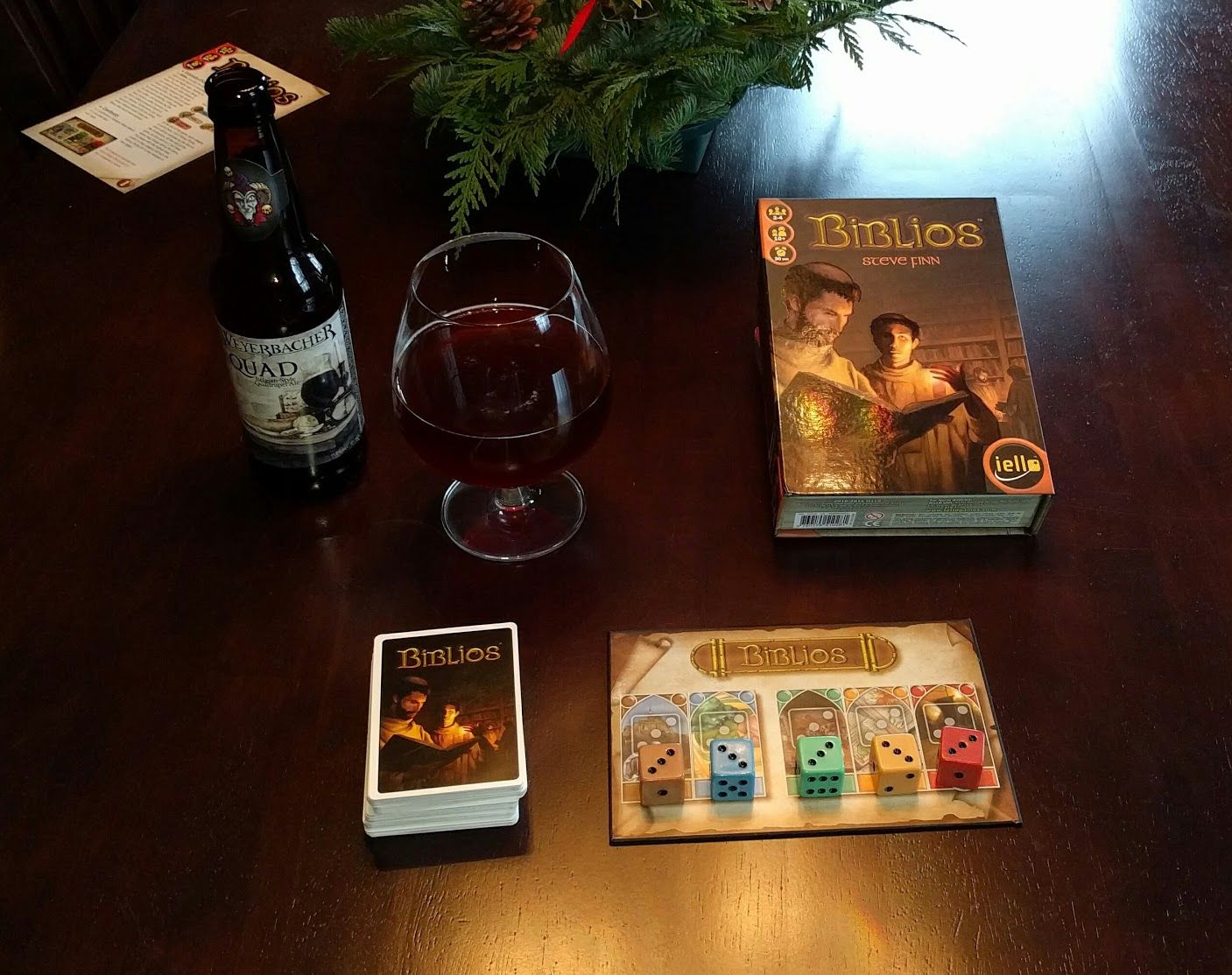 With the holidays upon us and the return of winter, Board Games Enhanced is launching a new section called board game pairings. Here we will make suggestions about what food or beverage would enhance your board gaming experience. Let's be honest, most pairings will be focused on adult beverages, as they have properties that tend to enhance many things foods tend to detract from gaming due to their messy nature.
Our first pairing: Biblios and Weyebachacher Brewing Company Quad. As you prepare to spend time with your friends and family later this week, we thought it would be great to select a game that matched the spirit and history of the upcoming holiday: Biblios. For those who have never played, Biblios is a quick 30-minute game involves strategic planning, a bit of bluffing, and touch of luck. In it you assume the role of an abbot in a medieval monastery competing to amass the greatest library of sacred texts. The game involves two main phases: the gift phase and the auction phase. During the gift phase, you take turns gifting items to your competitors and donating them to the public space for auction. After completing the gift phase, all players participate in the auction, biding for the donated public goods from the previous phase.
The ideal pairing for running a monastery: the Weyebacher Brewing Company Quad. This Belgian-style Quadrupel ale is inspired by the Trappist brewers of Belgium. As is typical, this ale has a high 11.8% ABV, pours a deep red with a thin quickly dissipating head that leaves a slight ring around the edge of your glass. Pouring it into a tulip or snifter will give you the best chance to enjoy the dark fruit, clove, yeast, and rum aromas. It tastes very similar to the aroma with an added touch of orange. It feels warm and medium bodied with very low carbonation. This beer will definitely enhance your Biblios experience, as well as relax you as your weekend with friends and family progresses. Caution: at 11.8% ABV, don't have too many or your bidding capacity may be diminished and your victory may "sip" through your fingers (Am I the only one that finds that funny?– probably.)
Weyebacher Brewing Company does not have nation-wide distribution. If you live outside of their distribution area, which Belgian-style quadrupel ale do you recommend? Share your thoughts in the comments below.