BGP: Agricola and Plow Horse Belgian Style Imperial Stout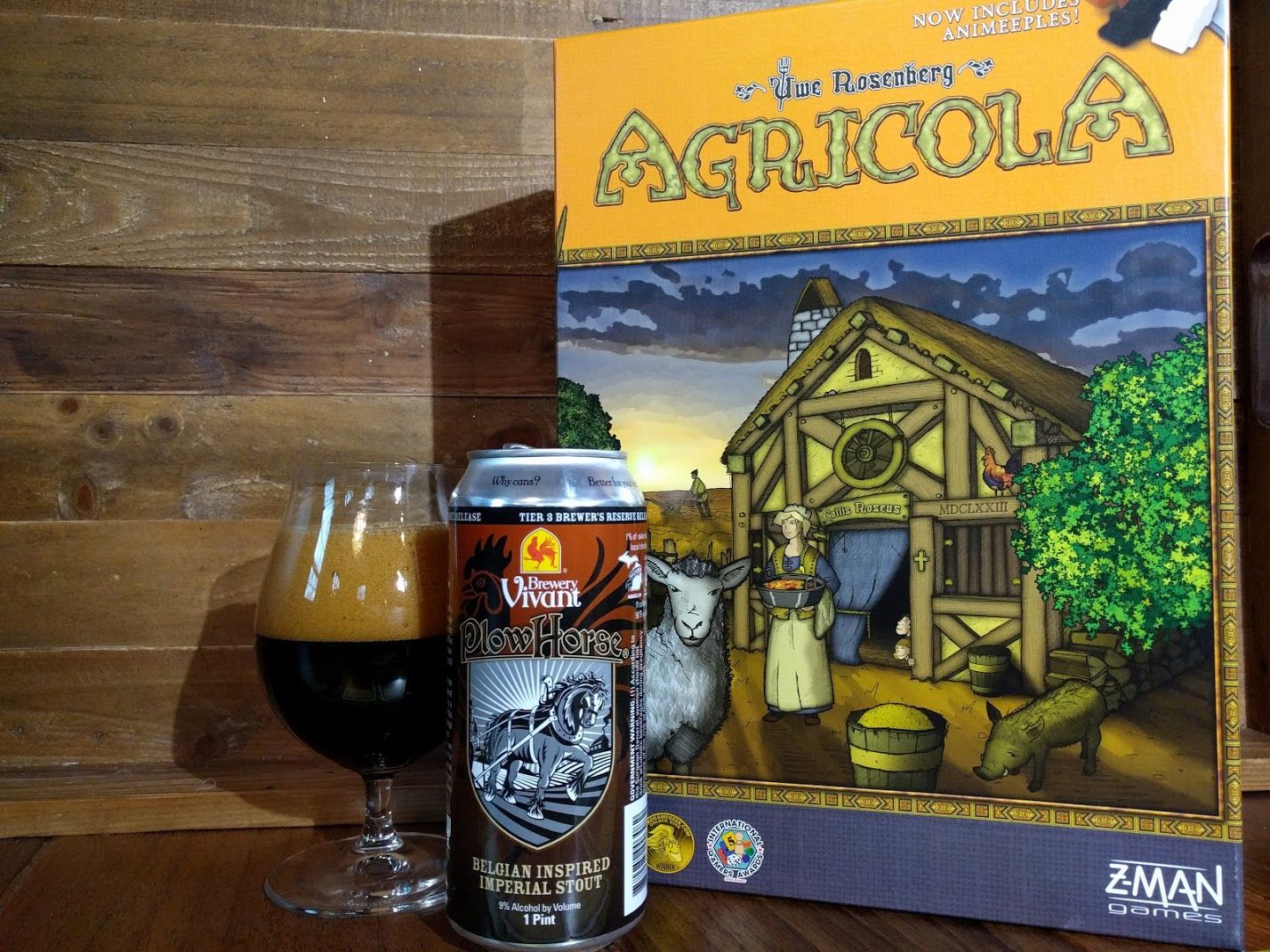 With New Years Eve just a couple of days away, you're likely contemplating what games to play and what beverages to enjoy with your friends. We are here to help! This post is the second in our board game pairing series– read on for our suggestion of what board game could be great for the holiday evening and what beer to pair with that game.
New Years Eve Pairing: Agricola and Brewery Vivant Plow Horse
New Years Eve is a special time of year in which we celebrate the past and look forward to our future accomplishments in the new year. Agricola is very similar: as each season ends you make plans for the next. The game requires you to balance the desire to continue expanding your farm with the necessity of keeping your family fed. Agricola takes roughly two hours to play, making it an ideal game to enjoy on a long evening like New Years Eve.
In order to farm, one must have the necessary equipment to plant their fields. That's where Brewery Vivant's Plow Horse comes in. This Belgian Style Imperial Stout comes in a 16oz can and weighs in at 9.8% ABV. It pours deep black with a large, quickly dissipating mocha colored head which settles into a thin residue and leaves no lacing. Aromas of roasted coffee, bittersweet chocolate, molasses, caramel, and a bit of dark fruit tickle your nose. The taste is complex and begins with the roasted coffee and chocolate notes, a tinge of sour from the yeast and ends with a tartness similar to very dark chocolate. For all its flavor, this stout is medium to thin bodied and 16oz won't fill you up as you continue to enjoy your New Years Eve celebration.
Brewery Vivant distribution includes Michigan, Indiana and the Chicagoland area. If you don't have access to Plow Horse or have another favorite beer you'd suggest for this pairing, share your thoughts in the comments below.